Member of the Management Board
Graduated from the Law and Administration Faculty of the Maria Curie- Skłodowska University in Lublin and post-graduate course in Organization and Management at the Lublin Business School.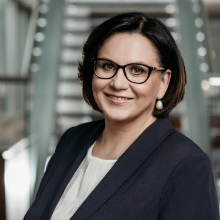 From 2002 to 2005 she was a Member of the Puławy Poviat Management Board, where she handled mainly social issues.
From 2005 to 2015 she was member of Sejm of the Republic of Poland (of the 5th, 6th and 7th term of office). She worked in the Committees on the European Union, Internal Affairs, Special Committee for changes in legal codes, where she acted as the deputy chairwoman of the Committee for two terms of office. She was also member of the National Council of the Judiciary of Poland, Chairwoman of the Supervisory Board of the Social Insurance Institution.
In 2007, she was the Secretary of the State on labor and social policy at the Prime Minister's Office. On 7 August 2015, she was appointed to the position of the Head of the Office of the President of the Republic of Poland, which she held until 12 June 2017.