Member of the Management Board
PZU SA Management Board member since 13 June 2017 and PZU Życie SA Management Board member since 19 June 2017.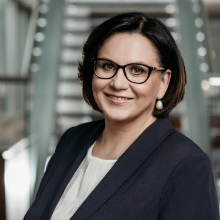 Graduate of the Law and Administration Faculty of the Maria Curie-Skłodowska University in Lublin and a post-graduate course in Organization and Management at the Lublin School of Business. She completed her Master of Business Administration degree at the Faculty of Management at the Lublin University of Technology. This program in management was run in cooperation with the University of Minnesota in Minneapolis. Under the program run by this university she also gained a certificate in human resource management and marketing.
In the PZU SA and PZU Życie SA Management Boards she is responsible for the Banking Cooperation Division, including bancassurance and strategic partnerships, the real estate management department and the procurement department. She also oversees the PZU Group's foreign companies. Until 2017 she was the head of the Chancellery of the President of Poland. She was responsible for cooperation with the Council of Ministers, the parliament and public administration authorities. Deputy Chairwoman of the Commission on Amendments to Codification in the Sejm of the Republic of Poland from 2012 to 2015. She participated in work on bills concerning civil and criminal law and the Commercial Company Code. She opined regulatory changes in the Commercial Company Code, banking law and competition and consumer protection law. She was the Chairwoman of the Supervisory Board of the ZUS Social Insurance Institution in 2007. As a secretary of state in the Office of the Prime Minister she participated in meetings of the social insurance task force. She was involved in analyzing the legal, social and financial consequences of solutions in this field.