Member of the Management Board
Has extensive experience in the financial services industry. He holds an engineering degree with honors from Liverpool University. He is a qualified statutory auditor certified in the United Kingdom.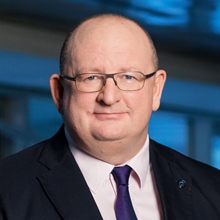 From 1998 to 2007 he worked for GE Capital where he held managerial positions in finance. From 2007 to 2008 he acted in the capacity of CEO of AAS Balta, the largest insurer in Latvia.
From 2008 to 2009 he was the director of sales in the Intouch Insurance Group, the holding company belonging to the RSA Group. From 2009 he has been in the Management Board of Link4 Towarzystwa Ubezpieczeń S.A. and from 2012 he has been its CEO.
He received an award for being the Man of the Year in Insurance in 2014 conferred by Gazeta Ubezpieczeniowa.