Member of the Management Board
PZU SA Management Board member since 22 March 2016 and PZU Życie SA Management Board member since 25 May 2016. He is responsible for risk management.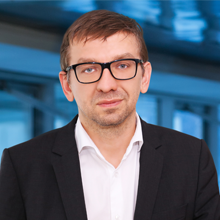 He graduated from the Faculty of Law and Administration at the University of Łódź and completed post - graduate studies in business insurance, an MBA in finance and insurance and post-graduate studies in risk management. In 2006-2009, Member and then Vice President of the TFI PZU SA Management Board. Since 2015, he worked for TFI BGK S.A., where he discharged the function of Management Board Member. President of the ŁSSE S.A. Management Board, Member of the Morizon S.A. Supervisory Board (in 2015-2016), Chairman of the Dom Invest Sp. z o.o. Supervisory Board (from 2016 to 2017). Member of supervisory boards in PZU Group companies (Alior Bank SA since 2016, PTE PZU SA, Link4 TU SA).